01. When To Lead And When To Follow
02. When To Lead And When To Follow (Heart Island Remix)
Release: 10.05.2013 (DE/AT/CH), 13.05.2013 (world)
Punktlandung. Den Winter über haben sie sich eingegraben, gelauert, auf den richtigen Moment gewartet. Nun preschen sie hervor, aus ihrem Unterstand heraus, sind plötzlich von irgendwoher in diese Zeit gefallen: die Band UNMAP sendet mit "When To Lead And When To Follow" ein erstes Lebenszeichen.

Kompakt und doch wendig. Wie ein massives Schiff auf unruhiger See zieht das Stück vorwärts, dunkel im schweren Rhythmus der Wellen. Unmap berichtet dabei mit trockener Erzählstimme und der Andeutung eines riesigen Sing-Alongs von der Spannung zwischen führen und folgen. Von der Frage, wann die Zeit ist, sich zu fügen und wann anzuführen.

Auf diesem Grad bewegt sich "When To Lead And When To Follow" mit naivem wie erhabenem Stolz, entfaltet seine urbane Version einer düster treibenden Musik von hölzerner Griffigkeit und launischer Intimität. Das Stück touchiert mit Eleganz die Codes von Soul und Electronica, R'n'B und Indie und baut sich daraus mit Leichtigkeit das Wesentliche zusammen. Mehr muss im Moment gar nicht gesagt werden.
During the winter they hibernated, lurked, waited for the right moment. Now they dash out of their shelter, falling into the present time from somewhere else: the Band UNMAP sends a first sign of life with "When To Lead And When To Follow".

Compact yet still versatile. Like a massive ship on a restless sea the song moves ahead, dark in the heavy rhythm of the waves. Unmap reports with a dry narrator's voice and hints towards a huge singalong about a tension between solo ambition and obedience. About the question of when it's time to defer and when it's time to lead.

"When To Lead And When To Follow" pulses with naive yet sublime pride, unfolds an urban version of gloomy music that grips the reader with moody intimacy. This piece elegantly touches the codes of Soul and Electronica, R'nB and Indie and assembles the essentials from it with ease. Nothing more to add at the moment.



GET THIS NICE RECORD!

Audio files via iTunes | Bandcamp | Beatport

LINKS:

www.unmapmusic.com
www.facebook.com/UNMAPBAND

COVERPICTURE:

When To Lead And When To Follow Cover 300 dpi
When To Lead And When To Follow Cover 72 dpi

BANDPICTURES: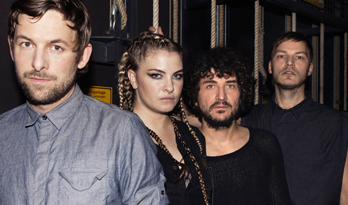 Unmap Pic 01 | Unmap Pic 02
Pictures by Christoph Neumann

Unmap Pic 03 | Unmap Pic 04
Pictures by Rosa Merk

Unmap Pic 05
Picture by Andrea Huyoff


DATES:

No dates at the moment
RELATED RELASES: