01. Don't Be So Hot
02. Heavy Weight (Edit)
03. La Boum Fatale's Euphobia Remix
04. Mother Shell (Thomalla Remix)
Release: 07.09.2012 (DE,CH,AT) / 15.10.2012 (world)
Mit ihrer dritten Single "Don't Be So Hot" scheuen sich Me And My Drummer nicht vor der klaren Form und einfachen, bewegenden Worten. Hinter den Synthies haben sie das Wesentliche nicht aus den Augen gelassen. Charlotte Brandi am Klavier, Matze Pröllochs am Schlagzeug. Punkt. Und Brandis Stimme: offen und bildreich. Raffiniert, hypnotisch, leichtfüßig: all we need is magic!

Außerdem befindet sich auf der EP die immer noch aktuelle Vorgänger-Single "Heavy Weight", die wiederum die deutlich 80s-lastige Seite der Band zeigt: mit treibendem Beat und betörender Synthie-Wand.

Oben drauf folgt mit dem "Euphobia Remix" ein Beitrag von den Labelfreunden La Boum Fatale. Diese haben gerade erst Ihre Debüt-EP "Damwild" veröffentlicht und wissen mit einem Remix zu begeistern, der in neuem, fetzigem Gewand den guten 90s Drum'n'Bass - Zeiten liebevoll ein Augenzwinkern zuwirft.

Komplett wird die EP mit einem weiteren Remix von Electronica-Supertalent Thomalla. Neben der Arbeit an seiner gerade veröffentlichten zweiten EP "Alftavatn" hat er die Zeit gefunden, um einen hypnotischen Remix von Me And My Drummers "Mother Shell" beizusteuern.


With their third single "Don't Be So Hot" Me And My Drummer don't avoid using straight forms and simple, touching words. Behind the synthies they didn't lose sight of the essential. Charlotte Brandi playing the piano, Matze Pröllochs the drums. Period. And her voice: candid and picturesque. Astute, mesmeric, twinkle-toed: all we need is magic!

Moreover the last single "Heavy Weight" is included in this EP showing explicity the band's 80s-bound side: with drifty beats and enchanting synthie-walls.

On top comes the "Euphobia Remix" by label mates La Boum Fatale. They just released their debut EP "Damwild". With a new, smashing livery they know how to elate with a remix that winks fondly at the old 90s drum'n'bass times.

The EP is completed with another remix by Electrinica-supertalent Thomalla. Next to his work on his just released second EP "Alftavatn" he found the time to contribute a hypnotic remix of Me And My Drummer's "Mother Shell".







GET THIS NICE RECORD!

Sinnbus Shop: CD
Audio files via iTunes | musicload

LINKS:

www.meandmydrummer.com
www.facebook.com/meandmydrummer
Booking: info@meandmydrummer.com
COVERPICTURE:

Don't Be So Hot 300 dpi
Don't Be So Hot 72 dpi

BANDPICTURES: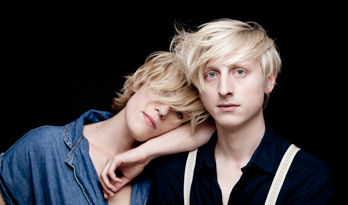 Me And My Drummer Pic 01
Me And My Drummer Pic 02
Me And My Drummer Pic 03

Pictures by Olga Kessler
Me And My Drummer Pic 04
Me And My Drummer Pic 05
Me And My Drummer Pic 06
Me And My Drummer Pic 07
Pictures by Thomas Kierok
DATES:

No dates at the moment
RELATED RELASES: